Shellac: Whats the difference between Gels and Shellac?
Going beyond our expectations for a basic manicure, and going into the realm of new things we can do other than the standard nail polish. What falls into our laps are the options of Gels and Shellac. The thing is, you then have to make the decision on what type of nail art to get!
If you have never had either Gel on your nails or Shellac done before then the decision can become quite tricky. But not to worry, today we are going to look at the difference between Gels and Shellac, and some of the pros and cons of each option.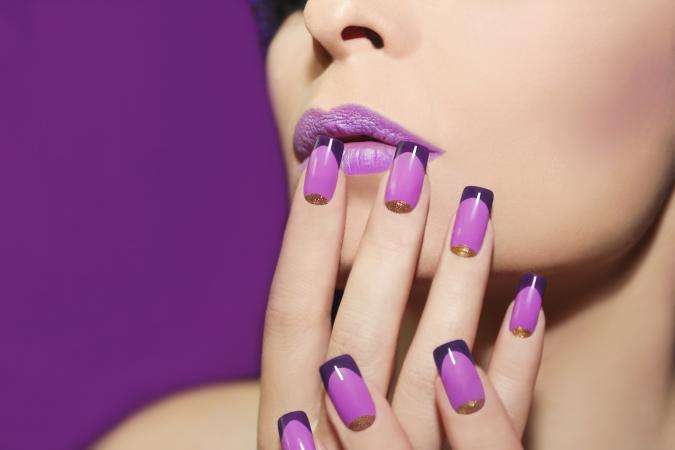 Gels: What it is, and it's pros and cons
For gel nail polish to work you have to set or cure it using an ultraviolet light.  Once it has been cured, it goes very hard, and almost impossible to chip (which I'm sure you can all agree is a huge plus). Between cleaning, washing dishes and day to day life the possibility of cracking your fresh nail polish is so high it almost makes you feel like getting your nails done is pointless!
So the fact that they don't chip easily is excellent. Many people get gels, or even acrylics to help to strengthen the nail and although this is true while the product is on the nail. The removal process includes soaking your fingertips in acetone which is a drying agent, after buffing them which over time makes the nails brittle.

Pros
– Gels have quite an extended period of use before they begin to peel.
With a lot of people saying they last between two and three weeks before you want to soak your fingers in acetone to remove.
– They always have a lovely glossy finish to them.
– The time it takes to apply the gel is relatively quick due to the ultraviolet light used to cure it.

Cons
– If the gels do break, crack or chip for any reason, fixing it at home is quite a pain. Most people won't have the correct equipment at home and so it becomes hard to fix them unless you go to a salon.
– Frequent use can result in dry and brittle nails (nail damage).
– The technician buffs the nail before the acetone wrap. Causing more damage in the long run.
Shellac: What is it, and it's pros and cons
Shellac is actually a combination of both nail polish and gel. Taking the best characteristics of both products and joining them as one. Because shellac contains gel, it is gets confused with it often. Where we can use gel alone as a nail extension, the addition of nail polish to make Shellac means that we can only use it as a polish.
Having said that, the addition of gel means that the shellac does increase the durability and strength of your nails.

Pros
– Shellac is not too thick; it is well known for being quite a thin manageable layer on top of your nail.
– You want your nails to be durable when you have the polish on, and shellac fits into this.
– If you are not one for overly shiny nail polishes, then this is an excellent option for you. Shellac has a very natural finish to it, it does have a shine which it gets from the gel aspect, but it is more natural looking than 100% gel.
– Quite like 100% gel, you can expect to have the Shellac product on your nails for at least two weeks. With people saying it has lasted for up to a month. Of course, it is completely down to you with how often you get your manicure topped up, and how quickly your nails grow.
– The removal technique is a lot less harsh than with just gels. Although you do have to use an acetone wrap, it is less harmful because you do not need to buff the nail beforehand. So if you are planning a manicure to improve your nails, this is something to think about.

Cons
– The nail polish factor in the mixture stops it from becoming a product to use as a nail extender.
– To remove shellac properly you need an acetone wrap. Which is like its gel sister in a sense.
– Lastly, to have Shellac applied a healthy nail bed is advised.
What is the difference between gels and Shellac?
The main difference is not anything major, but it is a difference nonetheless. And it is that a gel nail treatment is a semi-permanent gel, whereas a shellac nail treatment is a semi-permanent polish.
Your decision on gels or Shellac depends on what it is you want from the product. If it is nail extension, then the gel is better then acrylics. However, if it is a healthier nail product that lasts longer and is durable for your day to day activities, then Shellac is the one.
It combines gel and nail polish and has the best of both worlds in regards to what it does for your nails. And in the long run, does not damage them the way that gel does.
Image Credits-
Featured image: https://www.fenwick.co.uk/daily-muse/articles/nails-inc-paint-can-spray-on-nail-polish
1: http://skincare.lovetoknow.com/Gel_Nails_Acrylic_Nails
2: http://www.apneatreatmentcenter.com/herbal-treatments-for-sleep-apnea-pros-and-cons/
3: http://www.principalsolarinstitute.org/site/Solar%2BAction%2BAlliance/6760
4: https://www.thecut.com/2012/10/beauty-qa-how-do-a-gel-mani-shellac-differ.html
5: https://twitter.com/local_lead_gen
6: https://evernotetutorial.weebly.com/pros-and-cons.html
7: https://help.olivetree.com/hc/en-us/articles/213709006-What-s-the-difference-between-a-Concordance-and-a-Cross-Reference-